Actually,
A Short Essay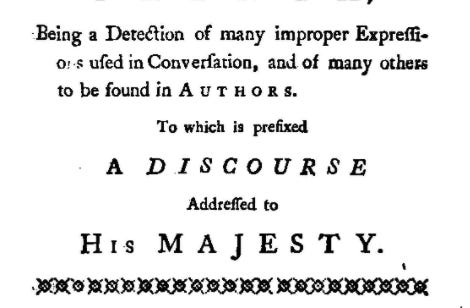 I have a friend called Tiger whose job, at least in part, is handling all the language complaints for the national broadcaster. If someone hears a word on Radio National pronounced in a way they deem to be unacceptable, Tiger is the person they bother about it. If a newsreader uses lay when they should have said lie, Tiger fields the enquiries of the various cranks demanding to know why the ABC is destroying English language. If an editor allows an American spelling to slip into an online article, a mob of retired English teachers come to Tiger's house and kill him with a brick.
Tiger is a very kind and gentle man, but I'm convinced that he was in a previous life a war criminal responsible for several unspeakable atrocities, because some sort of cosmic atonement is the only way I can understand the peculiar kind of hell he occupies day in and out. Nevertheless, he handles the language complaints — and they are almost uniformly complaints — with his own cheerful and patient intelligence, and only very occasionally am I concerned that he's going to snap under the weight of the tedious nitpicking that crosses his desk every day and go on a sword rampage through the Sydney CBD.
On social media, I see a fraction of what Tiger has to deal with. If you've spent any time on Twitter, you'll know what this looks like. Professional writers — almost always journalists, almost always from the ABC — take to Twitter and complain about whichever half-remembered usage rule they think is currently being flouted. There's a certain amount of performative anguish in these tweets, a kind of hyperbolised garment rending that's meant to make things light and fun, but the very real undercurrent of reproach is there and unmistakable, and if these threads start lighthearted, sincere remonstrations about the degradation of language are never far away.
Obviously, there's nothing new about any of this. The descriptivist/prescriptivist battle has been raging, mainly out of view of the general public, for generations. In this sense, it is similar to the secret war between vampires and werewolves in the Underworld franchise starring Kate Beckinsale. (In almost all other respects, however, it is very unlike the secret war between vampires and werewolves in the Underworld franchise starring Kate Beckinsale.) That said, like a lot of things that people used to bother one and other about in private, social media has dragged this particular skirmish further into the mainstream. And as pointless as it is to grapple with any of these complaints in good faith, it's worth having a bit of a look at the most recent iteration of this posturing, because I do think it's a neat little example of what the Neo-Pedants of the 21st century are actually all about.
So, just last week, several high profile print and broadcast journalists gathered online to piss their pants about the distinction between less and fewer.
'Nobody seems,' the initial tweet from an ABC writer said, 'to know the difference between less and fewer, and I've reached the age where it bothers me no end.' The typical chorus of agreement followed from colleagues. Absolutely. Drives me MAD as well. So. Much. This. Scroll down the replies and you can find a few brave souls meekly asking if this rule could be explained. The original tweeter replied, not a little curtly, with this:
''Less' is for quantity.

'Fewer' is for individual items.

I'd like less milk in my glass.

We need fewer glasses of milk, because only three kids turned up ....'
They're right, insofar as this is what the convention says. In reality, there are many, many exceptions to this (outlined here in a great article Tiger wrote a few years ago) but that doesn't stop people confidently asserting it as gospel. But still, fewer for count nouns (coins, pants, cars), less for mass nouns (water, honey, heartbreak), is basically the whole thing. That's it.
It's the sort of grammar tidbit that is, at absolute best, mildly interesting. If someone told you it at a party, you would make a kind of 'heh!' noise and then pretty quickly look for someone else to talk to. And so it's difficult to understand, once you know what all the fuss is about, why people like journalists, who have very busy jobs in an industry in complete free-fall, have time to go absolutely cuckoo bananas over it.
There is one main reason given, and it's bullshit. Actually — inevitably it begins with an actually — it's about precise and clear communication. You hear this a lot when people are talking about arcane usage rules, and it's a pretty neat cheat code for turning personal and aesthetic preference into a kind of moral crusade. When it comes to less/fewer, and dozens of rules just like it, precision and clarity aren't a factor at all.
There's a good way to test this. Try to imagine a situation where 'incorrect' usage of less or fewer would result in any kind of confusion. If my wife says to me 'You should buy less mangoes at the shop next time' after I bring home thirty to forty mangoes, I know exactly what she means. I disagree with her — because there are certain types of mangoes where you basically have two months of the year to eat as many of them as you can while they're in season and even if you give yourself a tummy ache it's just the price of doing business — but I still understand her perfectly. In fact, it's very unlikely that I would even notice the "wrong" word being used there, because it sounds perfectly natural to my ear, and also because I'm not really listening because I've got thirty to forty mangoes to consume.
Another reason you know that the clarity and precision argument is bullshit is, as the folks at Merriam-Webster point out, prior to 1770, 'less' had been used to modify count nouns for over one thousand years without anyone kicking up a fuss. For an entire millennium, people managed to get about the place saying things like 'Buye ye less mangoes from the shoppe, husband', while being perfectly understood by their old timey spouses.
So what happened in 1770 that would change everything?
Well, in 1770, exactly one bloke going by the name of Robert Baker decided it was wrong. That was it. We actually know very little about this guy, except what he tells us in the foreword to his book, which includes the detail that he himself owns no books, making him a kind of 18th century Garth Marenghi. The thing is, though, that you told him on his deathbed, moments before he succumbed to rat colic, that this rule would be his legacy, he would be extremely confused. Because he himself didn't even say the less/fewer thing was a rule. He explicitly said it was a personal preference. Here's, literally, all he wrote about it:
LESS

This word is most commonly used in speaking of a number, where I should think 'fewer' would do better.

No fewer than a hundred appears to me not only more elegant than less than a hundred, but more strictly proper.
That's it. That is — and I cannot emphasise this enough — it.
So with all this in mind, I hope you see why I think it's weird to get mad — even that twee, sing-song sort of mad that you find in these people — that the general population don't observe this rule. I think it's equally weird to put so much stock in your own observance of the rule and rules like it, much less to build a personality on.
It's especially weird that this linguistic faux-pas bothers the sort of people who would baulk at convention-bound snobbery in virtually every other circumstance. People who pride themselves on being down to earth and egalitarian seem to get a free kick when it comes to enforcing arcane and pointless usage rules, with no kind of self awareness that were it applied to Windsor knots or soup spoons, this kind of high handed moaning would be rightly dismissed as the worst sort of affectation. 
Worse still, it's so often couched in a love of language, which is not to say that a love and fascination with language isn't justified. The ability to transmit ideas and stories and complex emotions from one person to another using squiggly lines on a page or vibrations in the air is some truly wackadoo stuff, and so it's no surprise that language as a concept occupies a similar place in the discourse to magic. What's less explicable is how often this love seems to manifest in scolding strangers with a tedious recitation of rules, the utility and origins of which are either unknown or unexamined by the person doing the scolding.
This is probably because none of this is ever about language itself, or being clear and precise. It's not about being right, it's about knowing something that someone else doesn't, which (unlike less and fewer) is a very useful distinction.